With the price of decent fish these days my family is really grateful to have a relative who is not only a fishing fanatic but also catches really nice eating fish, when he goes out on the bay he brings back red snapper, flathead and western port gummy shark all of a size where the bone is not so small that it becomes an irritation to find them while you eat.
I have to say upfront that my favourite had to be the monstrous wild barramundi he brought back from the Northern Territory some years back, this became an addiction to three inch thick barramundi steak each night on the barbi for what seemed like an eternity.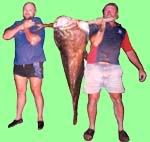 One peg down from the barra steak are the very good sized yellow belly and Murray cod we get on a regular basis, with the subtle flavours of these beasties it is rare that we apply strong flavoured herbs and seasonings, basic preparation is just a light salting of the fillets the night before then left to marinate in lemon juice overnight in the fridge, by the following day the meat is already half cooked/pickled and only requires a light grilling.
Last nights dinner consisted of Murray Cod prepared in the above manner, served with a tomato and Spanish onion salad and some homemade dill pickles (all ingredients home grown)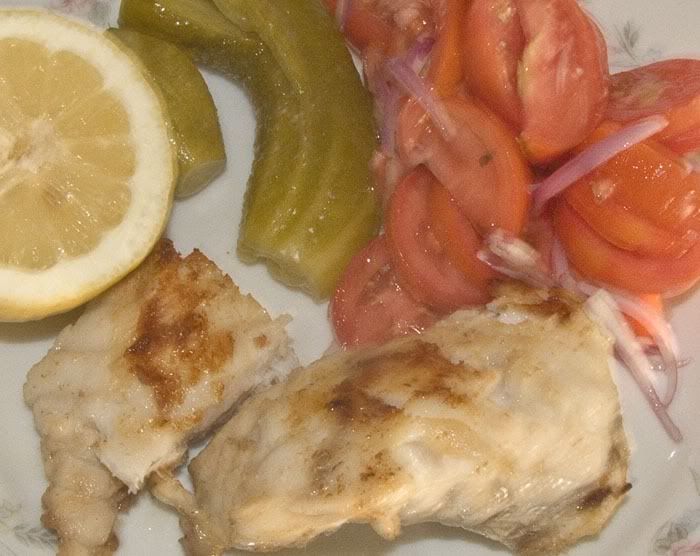 Occasionally we get Trout, blackfish and redfin I have to say that although the flavour is only one more peg down, I find it annoying to forever fiddle around inside my mouth with my fingers trying to find a fish bone or five.
The only other fish I remember as being really good eating (but apparently no longer available) is Orange Roughie, what are your favourites and why?