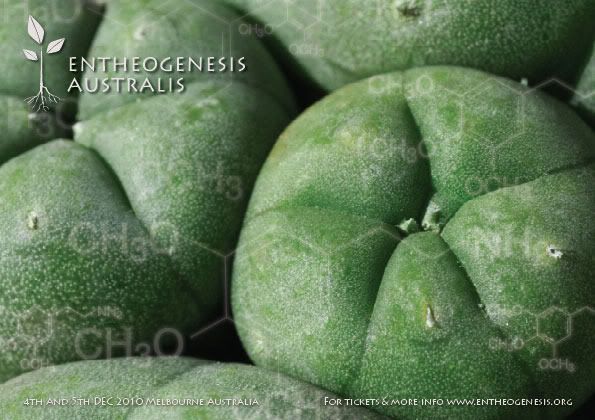 EGA 2010 - Psychedelic Symposium
It is with great pleasure that we announce our second indoor Entheogenesis Australis (EGA) Symposium, held once again at The University of Melbourne in Australia. This year we have extended the conference over both Saturday and Sunday, and aim to provide an unprecedented professional and engaging program in the field of psychedelic studies. So get out your calendars and mark December 4-5 in your diary as the date for this year's EGA.
If you wont to Know more about
Entheogenesis Australis (EGA)
follow this link:
http://www.entheo.net/EGA10_A4_v2LR.pdf
------------------------------------------------------------------------------------------------------------------------------------------------
Rick Doblin Headlining
It is with enormous delight that EGA will be bringing Rick Doblin to Australia to headline this year's Symposium. Rick is the founder of MAPS (Multidisciplinary Association for Psychedelic Studies) a non-profit membership-based research and educational organization. Amongst other things, MAPS sponsors clinical studies intended to obtain US Food & Drug Administration [FDA] approval for the use of MDMA and LSD as prescription medicines. Without a doubt this is a massive opportunity for the Australian psychedelic community and we encourage you all to spread the news across your networks as Rick's presence will draw interest from people across a wide variety of disciplines. We expect the 350 tickets to sell out very quickly this year, so get in early and make your plans for EGA well in advance.
Bio - Rick Doblin, Ph.D., - MAPS Executive Director
Rick founded MAPS in 1986. His dissertation (Public Policy, Harvard's Kennedy School of Government) was on "The Regulation of the Medical Use of Psychedelics and Marijuana," and his master's thesis (Harvard) focused on the attitudes and experiences of oncologists concerning the medical use of marijuana. His undergraduate thesis (New College of Florida) was a twenty-five year follow-up to the classic Good Friday Experiment, which evaluated the potential of psychedelic drugs to catalyze religious experiences. He has also conducted a thirty-four year follow-up study to Tim Leary's Concord Prison Experiment.

Rick studied with Stan Grof, M.D., and was in the first group to become certified as holotropic breathwork practitioners. His professional goal is to help develop legal contexts for the beneficial uses of psychedelics and marijuana, primarily as prescription medicines but also for personal growth for otherwise "healthy" people, and to also become a legally licensed psychedelic therapist. He resides in Boston with his wife and three children.
Talk 1
'Psychedelics, Social Change, and Cultural Evolution'
Talk 2
'Developing Psychedelics into Prescription Medicines: MDMA-Assisted Psychotherapy for Posttraumatic Stress Disorder'
The MAPS Web Page
http://www.maps.org
Our Second Keynote Speakers will be Dr Alex Wodak, President of the Australian Drug Law Reform Foundation, and controversial Australian personality in the area of drug reform in Australia.
Lecture:

'The Failure and Futility of Global Drug Prohibition'
Dr Alex Wodak
-
Dr Alex Wodak is a physician and since 1982 has been the Director of the Alcohol and Drug Service at St. Vincent's Hospital, Darlinghurst, NSW. Major interests include prevention of alcohol and drug-related problems, harm reduction, treatment of drug users in prison and drug policy reform. Dr. Wodak is the President of the Australian Drug Law Reform Foundation and was President of the International Harm Reduction Association from 1996 to 2004. Dr. Wodak and colleagues established the first needle syringe programme and the first medically supervised injecting centre in Australia (when both were pre-legal). He is a member of a number of state and national committees and has often worked in developing countries to assist efforts to control HIV infection among injecting drug users. Dr. Wodak was awarded an AM in 2010.
.
Australian Drug Law Reform Foundation Web Page
http://adlrf.org.au
Our third Keynote Speakers will be Mitch Schultz the US film directer of the forthcoming documentary
DMT: the spirit molecule
.
Lecture: '

Hacking Reality: Conscious Evolution of a Multi-­‐Dimensional Language System.'
Mitch Schultz Producer/ Director



Mitch started his journey in Memphis, TN. Since, he has called Texas, Minnesota, Colorado, and New York home. From an early age his love of film, art, music and storytelling fueled his path, and established his extensive background in film, broadcast, and interactive. Mitch's experience encompasses work with Ghost Robot, Synthetic Pictures, and a variety of television work. His education includes a BS in Radio-Television-Film from the University of Texas at Austin and a MPS from Tisch School of the Arts' Maurice Kanbar Institute of Film and Television at New York University.
'The spirit molecule' web page
http://thespiritmolecule.com/
Other
speakers and topics
for EGA 2010:
Dr Des Tramacchi
–
'Exciting the Spirit: Cross-cultural perspectives on the uses of stimulants as entheogens'
Joseph Gelfer
–
'Towards a Sacramental Understanding of Dextromethorphan'
Rohan Mitchell
–
' Lock Picking, Interpretive Dance and Unbridled Curiosity - a Peek into the World of Psychedelic Chemistry'
Torsten Wiedemann
–
'Is it legal?'
Robin Rodd
–
'Ayahuasca Use in Australia: Cultural Context and Perceptions of Health Consequences'
Michael Bock
–
'Ergots (and their relatives) of Australasia and the Ergot alkaloids'
Dr Anna Kokavec
–
'Contribution of mood, motives, personality and coping to licit and illicit substance use in young adults aged 18-25 years'
Jasen
–
'Iboga/Ibogaine in the use of addiction'
Henry Cox
–
'An Introduction to The Cultural Constructions of Pituri Use'
Rak Razam
–
'From Cosmic Consciousness to Convergence: Mapping the Species Activation'
Sean Leneghan
–
' The Varieties of the Ecstasy Experience
Stephen Bright
–
' Taking entheogens to the masses: Reflections on presenting to the Australasian Professional Society for Alcohol and other Drugs (APSAD)
The EGA program will also include a number of panel discussions



Facilitator -

Aaron

- Topic Title: [i]'Research chemicals: Walking the cutting edge of brain/mind integration'
Facilitator -
Rak Razam
-
'Medical Psychedelics: Soma for the Masses?'
Facilitator -
Rak Razam
– Turn On, Tune In, Evolve – is a New Psychedelic Revolution our Best Hope for Planetary Survival?'[/i]
The Full speaker bios and synopsis avalible;
http://www.entheogenesis.org/speakers/
---------------------------------------------------------------------------------------------------------------------------------------------
Ticketing Info
Tickets for the 2010 EGA Psychedelic Symposium is very limited and on sale now.
There are only 350 tickets available to this conference, so be sure to get in early.
DATE AVAILABLE TICKETS PRICE
02/11/10 – 29/11/10
Final boarding call
$170 ( $135 concession with ID)
Daypass
– Only 10 per day available @ $90, email us at entheogenesis<at symbol>gmail
To
buy
a ticket simply follow this link to the
EGA Shop
http://www.entheo.net/egashop.php
In the Flash from
The Happy Herb Shop
, 317 Smith St Fitzroy, VIC. Phone: (03) 9419 1277.
The Pixie Collective
, 374 High St, Northcote, Vic. Phone: (03) 9077 9719
---------------------------------------------------------------------------------------------------------------------------------------------
Please help spread the word about the forthcoming EGA conference in your networks and help keep EGA alive.
And if you have not guest all paying attendees receive a
free copy of this year's EGA journal
at the conference
We hope to see you at EGA 2010.
Love and Light
The EGA Team
http://www.entheo.net